4 Patiala Salwar Ideas That Every Girl Should Try Out
Pants, trousers and salwars make up half the outfit but most people don't pay much attention to them. Simply by experimenting, combining and reusing these salwars that already exist in your wardrobe, you can create new outfits and look fashionable at the same time. So, Here is a list of 4 Patiala salwar ideas which every girl should follow
Regular Patiala Salwar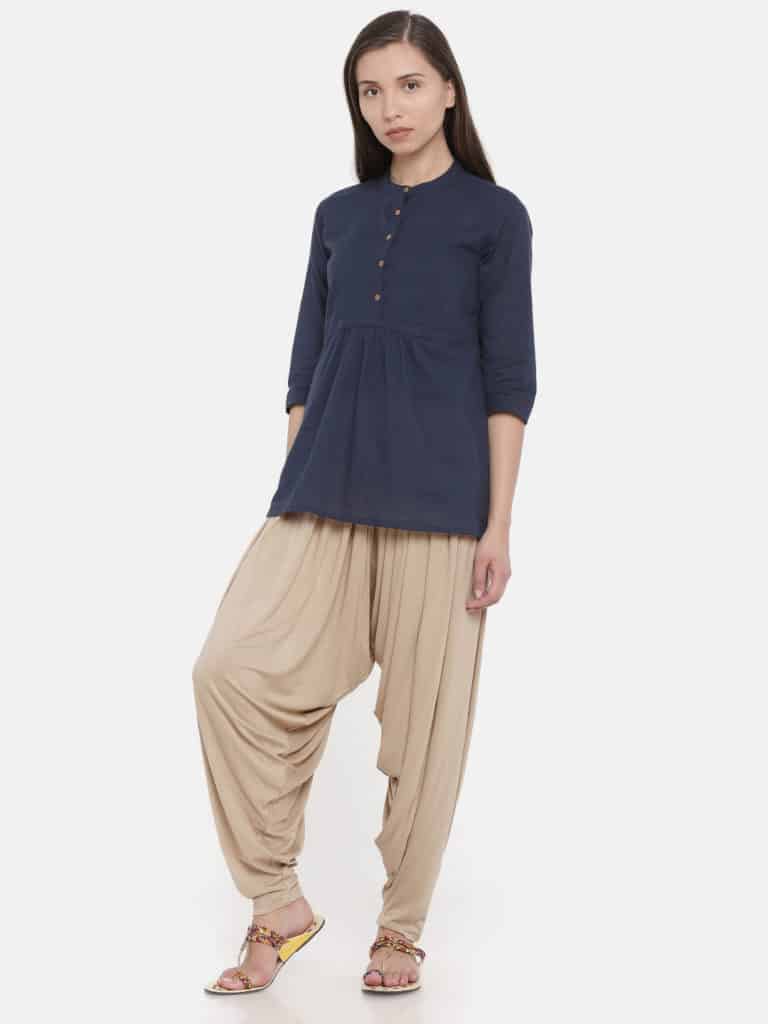 Patiala Salwar is the quintessential Punjabi pant worn with kurtas or short kurtis. This is what geet (played by Kareena Kapoor) from Jab We Met wore during the "Nagada" song. Even Kangana Ranaut wore these in "Tanu Weds Manu".
Patiala salwars are quite pleated around the waist and hence they are very airy and comfortable. They go very well with all kinds of body types and maybe that is the reason behind it being so famous after all these years. Patiala salwar comes in all shape and sizes and there is a wide range of Patiala salwar styles to choose from.
Patiala suits are loved vehemently by bollywood. This is quite evident from so many actresses adorning Patiala in their movies.
Dhoti Salwar
A dhoti salwar is basically an amalgamation of a "dhoti" and a "salwar". This salwar is perfect for summers as its quite airy. Dhoti is still worn by men in villages as it is very comfortable and this modern take on salwar brings out comfort and fashion with dhoti salwar. Dhoti can be worn with a kurti but it also goes very well with Anarkali style kurtis.
Harem Salwars
Harem is basically a "dhoti" of the eastern world. Harems have been worn by men from Pakistan, Bangladesh, Nepal, and India for many centuries. Harems became very famous in India as the essential new summer pants. They go really well with almost any kind of top, kurti or pretty much anything and everything. Harems also look really fashionable and are extremely comfortable. They are so comfortable that they have become the goto pants for Foreigners who visit India. Harem can be paired up with a short kurti or a T-shirt or also a crop top to give it an Indo-western look.
Churidar Salwars
Churidar is frequently worn by many Indian women on a daily basis. Churidars are very similar to the Patiala Salwar style but they are a bit tight and they hardly have any pleats on them. They hug your leg and accentuate the curves of your legs. You'd find churidar salwar designs for every occasion, from designer wear to a normal daily outing, they are available in many options. You can pair it up with a simple tunic or kurti for an outing. The fabric used for making a churidar is mostly cotton, silk or georgette.
These amazing styles mentioned above will truly help you change the regular look and create something which is unique and also fashionable. I hope you'll try it out and if you do, let me know the one which you loved the most.
Comments
0 comments